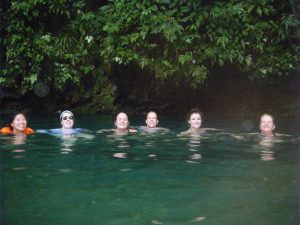 Our last day at DuPlooy's started off with breakfast burrito and a huge THANK YOU to the staff who took such wonderful care of us during our stay. It was hard to leave, but the Belize Zoo and our hero, Sharon Matola, awaited us and we did not want to be late! Only two hours separated us from some of the most amazing animals that we would ever see. Can we go on permanent vacation in Belize? 
We pulled up to the zoo, parked and made our way inside to be greeted by Queen Green, the resident boa constrictor. Each of our group members was able to take a once in a lifetime photo of themselves with the boa. Even those of us who were scared of snakes could not resist the Queen. She had just shed her skin and her light blue shimmer was eye-catching, to say the least. As we made our way through the zoo, we were in awe of everything from the hand-painted signs to the opportunity to go behind a "Staff Only" fence and give a crocodile a foot massage. 
We loved seeing Chiquibui, the Jaguar, who was a surprise to the zoo after her mom joined the family, carrying a little surprise stowaway with her! Our favorite visit was with Indy and Sparks, the tapirs. Tapirs are the national animal of Belize, but were once plagued by myths regarding their supposedly aggressive behavior, although you could have fooled us! Indy and Sparks were friendly, playful and kind. We even were able to feed Indy his favorite snack of carrots and scratch his back, which he loved. 
The most incredible part of the Belize Zoo, however, was being able to meet the heart and soul of the zoo: Sharon Matola. She is a hero to many of our group members and, likewise, people around the world. What she has done for the people and animals of Belize is nothing short of a lifetime achievement.  She left us with the idea that "no animal is unteachable" and we could not help but agreeing and will carry that sentiment with us into our classrooms.  
From the zoo, we visited the market in Belmopan to grab some unusual fruits for an exotic tasting. Have you heard of craboo or soursop? We hadn't either! 
The next stop was the Blue Hole, a crystal clear pool of blue water tucked into a rocky cliff. There was even a cave only accessible by swimming and you know we had to check that out. It was as solid as the rock we stood on to take a group picture. A quick dip was all we needed to recharge before we headed to the Jaguar Reserve and the Mayan Center. We arrived just in time to head out in search of tarantulas and scorpions, which we found immediately. 
After an early morning bird walk on Saturday, we headed off to the remote village of Monkey River to meet the people and interact with the students. Our teachers planned engaging activities to challenge the minds of these young learners while getting to know them and their culture better. A delicious lunch prepared by former students of Monkey River school hit the spot and we hopped on the fishing boat to cross back over to the mainland, but not before catching sight of a gar fish! 
On the way home we stopped at the Mayan Center to get a personal chocolate making lesson from Julio, whose family has been living on that land for over 100 years. We were able to make chocolate from cacao seeds and it was the best chocolate we have ever tasted. Julio even gave us a lesson on the history of Mayan culture and how the Jaguar Reserve has affected the Mayan people. Ecotourism is the livelihood of the village and the community is thriving. 
We are in love with Belize; so much. Now, on to the sea turtles.