January 17, 2023

- 1 Comment
Although we flew home today, we squeezed in one more adventure. With the help of Ranger Mike, we toured around Mammoth Hot Springs. We followed the snowy boardwalks as the sun rose over Mt. Everts to see the travertine terraces. Steam from the ever-changing geothermal features surrounded us as we listened to Ranger Mike use analogy and humor to educate the group. We compared the Upper Geyser Basin where Old Faithful is located to the Mammoth Hot Springs where we now stood. Ranger Mike explained the travertine terraces build up quickly but non-violently while the geyserite deposits of the Upper Geyser Basin build up slowly but can be violent.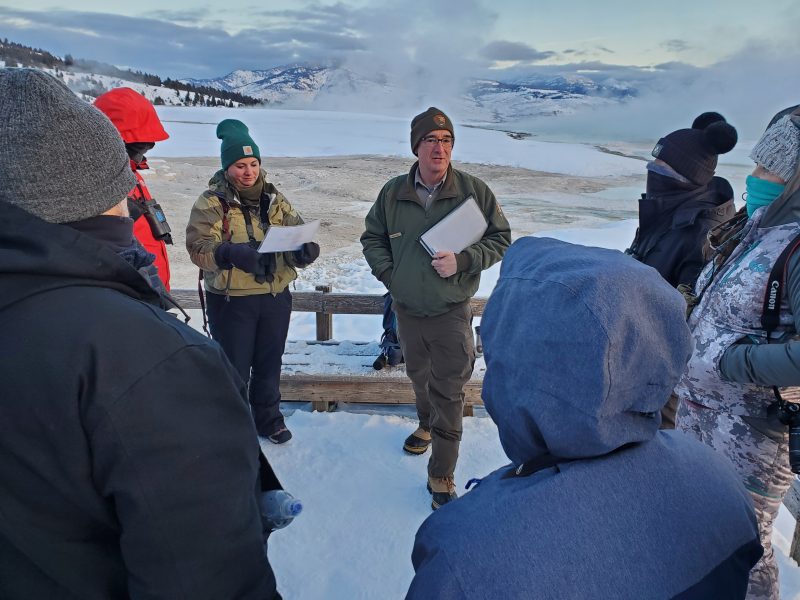 After braving our coldest morning (2 degrees Fahrenheit) yet we packed up our luggage to head home to North Carolina. As we drove from the North Yellowstone Lodge in Gardiner, MT to the Bozeman Airport we continued to use our newly developed wildlife spotting skills. The group finally saw the eighth ungulate, the elusive white-tailed deer. Golden eagles, bald eagles, magpies, elk, ravens and a possible carcass party were spotted along our drive.
We arrived at the Bozeman Airport and had come to terms with our grand Yellowstone adventure ending. The once group of strangers knew our newly developed friendships and passion for education would continue to grow. The ideas of bringing Yellowstone to our own classrooms flew out of our mouths as we chatted about the past week.
Through this experience both our eyes and hearts were opened to the importance of conservation of the greater Yellowstone ecosystem. Our first national park, now 150 years old, is the home of various extraordinary species that need to be protected, studied and learned from. Through the continued preservation of this special place, future generations will have the opportunity to experience all the magical wonders Yellowstone for themselves.