Day two did not disappoint! We began our early morning with a fine breakfast and got off to a fast start. We arrived in Mammoth Hot Springs at 0715 and loaded into the snowcoach. We then took a very scenic ride on closed (but groomed) Yellowstone National Park roads.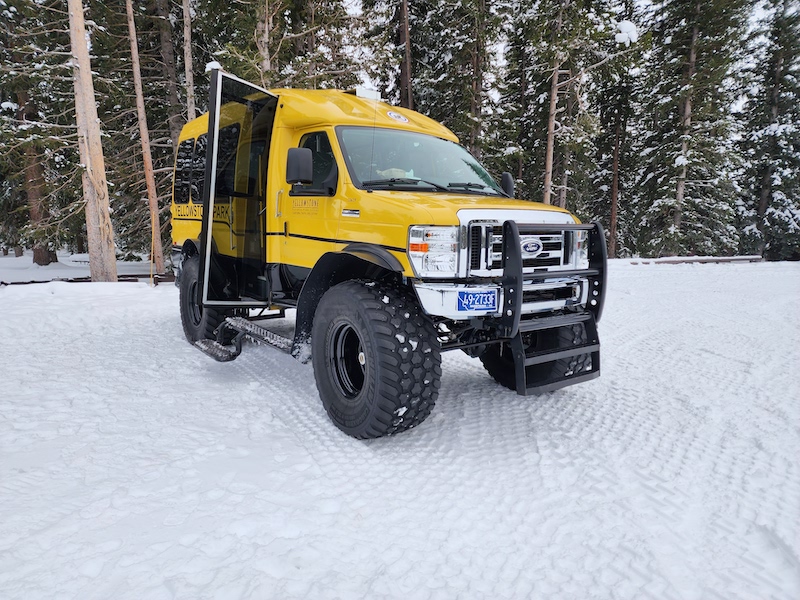 Our first stop was at Roaring Mountain. We all stood very still and used our "deer ears" to hear the mountain speaking to us. Venturing further into the heart of Yellowstone we visited Nymph Lake and observed common goldeneye and ring-necked ducks as well as trumpeter swans. Further in our travels we visited the Grand Canyon of the Yellowstone, where we observed frozen waterfalls and tens of feet of ice buildup at the base of the falls. The largest, at 308 feet tall, was the Lower Falls, where Thomas Moran and William Henry Jackson once painted and photographed the magnificent scenery. Their art helped convince Congress to preserve Yellowstone as our first national park.
Next, we traveled to the Mud Volcano and Dragons Mouth Spring. Here we used our senses to appreciate our surroundings, including the feel of warm steam, the smell of sulfur, and the deep bass sound and feel of steam explosions. The steam explosions of Dragons Mouth sounded like waves crashing into rocks, and Mud Volcano sounded like bubbling grits. Lakeshore Geyser, Black Pool, and Abyss Pool – three of the thermal features in West Thumb Geyser Basin – were amazing to witness. As we traveled on toward Old Faithful, we were able to lay eyes on the Grand Tetons from approximately 30 miles away. This evening, we're enjoying our stay in the grandeur of the Old Faithful Snow Lodge!